16 Mar

What is a wedding celebrant? And other frequently asked questions

Many people have never heard of a wedding celebrant, or if they have, are a bit unsure about what one is. Some people are confused about the difference between a celebrant wedding, a registry office wedding, a civil ceremony or a church wedding. In this blog, I'm answering some of the questions I'm frequently asked, including: can a celebrant legally marry people? What's different about a celebrant wedding? Can I have a combined celebrant and civil wedding ceremony? Hopefully, you'll find the answers to any questions you may have. If not – please get in touch!
What does a wedding celebrant do?
A wedding celebrant creates a highly-personalised wedding ceremony,  tailored to a couple's personalities and style. The process of creating a ceremony is a bit like choosing a made-to-measure suit, or a wedding dress. I spend time with you, getting to know you, understanding how you are and the vibe you want to create on your wedding day, so the ceremony fits you both perfectly.
What's different about a celebrant wedding?
A celebrant wedding is the most free and flexible ceremony you can imagine. The words said are all ones you choose, not ones that are imposed on you by a faith tradition or the law. With a celebrant wedding, you can have your ceremony anywhere, on any day of the week and at any time. Whatever your passions are in life, eg: travel, cocktails, dogs, dinosaurs, cupcakes, dance music, there can be a place for them in the ceremony. If you have a faith, or traditions from your heritage or upbringing, we can reflect those too. The final result is a ceremony that feels completely right for you and is a highlight of your wedding day.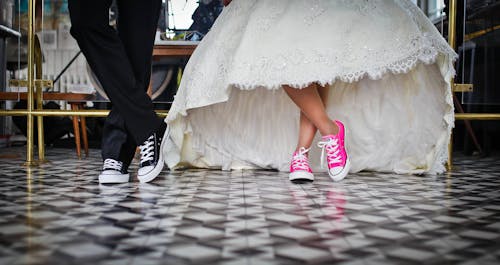 Can a wedding celebrant legally marry people?
No, because in England and Wales only church ministers and registrars are licensed to legally marry people. Until the law changes (maybe one day soon), in a celebrant wedding, the legal side of marriage is separate from the bespoke ceremony.
So, how does a celebrant wedding work?
With a celebrant wedding, the legal and personal ceremonies are separated. The legal ceremony could be minutes before your celebrant ceremony, or the day before or weeks or months beforehand. It might be in the UK or abroad. The legal ceremony must be arranged through a UK registration service or the foreign equivalent. After that, your celebrant wedding can take place wherever, whenever or however you choose. It's wise to book a celebrant at the same time as your legal ceremony, as the most popular summer dates get booked up months, even years in advance.
If we have a legal ceremony and a bespoke ceremony, will it feel like we're getting married twice?
No, it won't feel like you are getting married twice because the two ceremonies are so different. For your legal marriage, you can book a full ceremony or just a legal signing at a UK registry office. For the legal signing, you will make a two simple legal declarations and sign the paperwork. You won't exchange rings or the emotional, personal vows, which are included in a full ceremony. A legal signing often involves only immediate family and/or close friends. Although it feels significant, it is more of a simple legal undertaking than a celebratory wedding ceremony. If you marry abroad, naturally it will feel very different for that reason. There are several options and I am always happy to talk them over.
The wedding ceremony that I create for you will be different firstly because we get to know each other and secondly, because we have created something unique for you. You will be making your commitment in your own way. Everything is bespoke: from the moment you walk down the aisle, if you want to do that, to the confetti shower – if you'd like one of those!

What happens at a celebrant wedding?
The answer is: whatever you want! You will probably have all the elements you would expect at a wedding, including the vows, exchange of rings, music and readings will be there, but they will be presented in your own style.
One of the most personal elements is your love story, and I aim to tell that in an original way which is personal, funny, romantic and charming. I will offer you extra ideas, including symbolic rituals and my own thoughts, that you won't have seen at a wedding before. There may be live music and singalongs. We can include lots of friends and family or it can just be the two of you. If you want to include your dog – brilliant! Working with dogs and children are two of my specialities!
The ceremony will have your personalities stamped all over it. It might be quiet and romantic, or boisterous and full of laughter. There won't be anything fake or boring about it; everything will mean something to you, so it will be genuine.
If you have different nationalities, faiths, family or cultural traditions, these too can be woven into your ceremony.

Can we combine our civil and celebrant ceremonies?
It may be possible. Each registration district has its own guidelines. We are lucky in Dorset to be forward-looking in this regard. Anyway, it's definitely worth asking the question.
How long is a celebrant wedding ceremony?
My weddings tend to range from 30-50 minutes – typically the same as a church wedding and probably a little longer than a registration service wedding.
Who chooses a wedding celebrant?
All kinds of people choose a wedding celebrant, for a variety of different reasons. There are many people who simply feel that neither a church wedding, nor a civil wedding is right for them. This may be to do with their beliefs, or simply that they want to invest more time in their  ceremony, with a celebrant they have chosen. Some couples really want to be married in an unlicensed venue or a place that's special to them, such as their family farm, or in their garden at home. Some couples have already been legally married abroad and want to celebrate their wedding with family and friends in the UK. And there are people who want to celebrate their commitment, without being legally married. It's all about choosing what feels right for you, rather than being bound by conventions. And I hope it goes without saying, but I'll say it anyway, that I welcome LGBTQ couples.

Is a celebrant wedding more expensive?
No – it's generally not more expensive. It's typically the same cost as the registrars coming to your licensed venue. There are choices to suit most budgets. I am completely open about my fees upfront. I charge £650 for a bespoke wedding ceremony. The simplest legal signing and notices costs £127 in most districts. To find out what's included in my fee, please click here: Beautiful Day Celebrant weddings.
For registration service prices in your area, visit your local council's website. Here are Dorset Council's wedding prices .
How do I find the right wedding celebrant for me?
It's really important to find someone you like, who you feel understands you and your ideas for your wedding. You'll see many different wedding celebrants, with their own personality and style. I hope my website gives a clear impression of the kind of person I am: friendly, professional and creative. I offer a free 30 minute phone call, so you can ask me any questions and feel confident that you are making the right choice for you.
I am listed on Hitched and The Celebrant Directory
If you are recently engaged, let's chat about your big day. Get in touch at alicen@beautifuldaycelebrant.com, or 07976 360202.